The Ultimate RAM Truck Servicing Guide
After you buy a new or used RAM 1500 from Rick Hendrick Jeep Chrysler Dodge Ram FIAT, you'll rest easy with the peace of mind that comes with owning a hard-working, reliable powerhouse of a truck. However, your truck is a tool, and like all work tools, some routine maintenance can keep your truck in tip-top shape and ready to tackle any task.

RAM 1500 Service Intervals
Since automobiles measure their age in miles, that's where we get our service intervals from. Here are the basic intervals to keep track of. Remember that the real basic maintenance, like oil and filter changes, will be due at each of these intervals, and ask your technician to inspect the brakes, electrical, and cooling systems.
8,000 miles: After the first 8,000 miles, you should get the oil and fluids checked on your RAM, get the tires rotated, and change its oil and oil filter.
20,000 miles: Check, adjust, and possibly replace your RAM's front suspension, brakes, and tie rods.
30,000 miles: 30,000 miles is a good time to get the transfer case fluid in your RAM checked, as well as the case and axles inspected. You should also have the CV/Universal joint inspected, and replace the engine and cabin filters.
60,000 miles: Check the transmission fluid, filters, engine coolant, and brake fluid levels and lines, and replace them if needed.
100,000 miles: Once your RAM has made it to six-figure mileage, you should have all the specs listed above checked again. You should also get your spark plugs, wires, and PVC joints inspected and replaced.
120,000 miles: Perform your 60,000-mile service again, and inspect the transfer case if you're towing cargo. Change its fluid, too.
150,000 miles: Inspect the engine and cabin filters again, and replace them if necessary.

Making service easier with the RAM's Oil Change Indicator
The Oil Change Indicator, a standard feature of RAM 1500 pickups, is a smart sensor that analyzes factors like oil quality, engine size, and a lot more to determine when your RAM needs an oil change. Of course, some rules of thumb are also helpful to keep track of when oil changes are generally a good idea:
If you mostly do light, everyday driving, like commutes or carpools to work in Charleston or the occasional beach weekend, change your oil every 7,500 to 10,000 miles.
If you tow a trailer to tailgate at USC games or around the jobsite, you'll need to replace the oil more often, around 5,000 to 8,000 miles.
Finally, if you really put your RAM to work with a lot of off-roading or heavy towing, replace the oil every 3,000 to 5,000 miles.
The Oil Change Indicator makes it easier by popping up an orange box on the dashboard reading "OIL CHANGE REQUIRED" when the oil has 15% of its life left. When you see that indicator, schedule an oil change with Rick Hendrick Jeep Chrysler Dodge Ram FIAT's service center as soon as you can.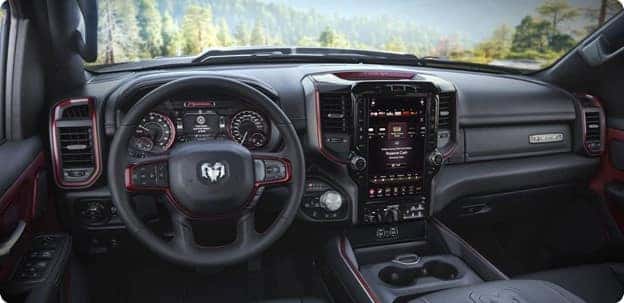 Get your RAM serviced or repaired at Rick Hendrick Jeep Chrysler Dodge Ram FIAT!
Whenever your RAM needs servicing or repairs, give us a call or come to our service center, conveniently located at 8333 Rivers Avenue in North Charleston! Our friendly techs, speedy and affordable service, and amenities like shuttle service, free estimates, and free wifi will keep you smiling while your RAM is worked on!