Wrangler Models for Sale in South Carolina
The new 2021 Jeep Wrangler is the perfect combination of classic and cutting-edge. Inside the 2021 Wrangler you'll find available state-of-the-art systems that help keep North Charleston owners connected to their world. Wrangler's available Forward-Facing Off-Road Camera allows you to see upcoming obstructions and obstacles that would normally be out of the driver's view, while the Uconnect® system lets you control heating and air conditioning, turn settings on and off and activate technology options. Get ready, because this is the most technologically advanced Wrangler generation ever!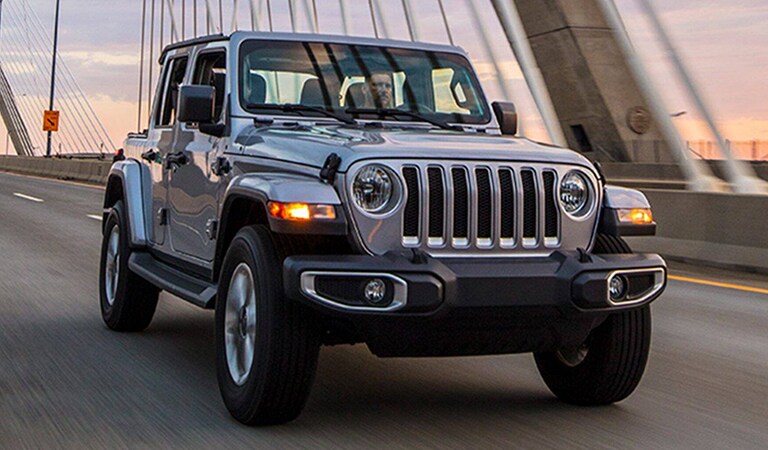 Wherever the world happens to take you, be sure to arrive there in iconic style with the new 2021 Jeep Wrangler. Available exterior features include:
Sky One-Touch® Power Top
Reflector Headlamps
18-inch tech gray wheels
Daytime Running Lamps
And more
Spacious, comfortable and evolutionary, the new 2021 Wrangler is the perfect place to live out your adventures. Available interior features include:
Trail Rail™ System
Removable cargo floor
Jeep® Utility Grid
Alpine® Premium Audio System
And more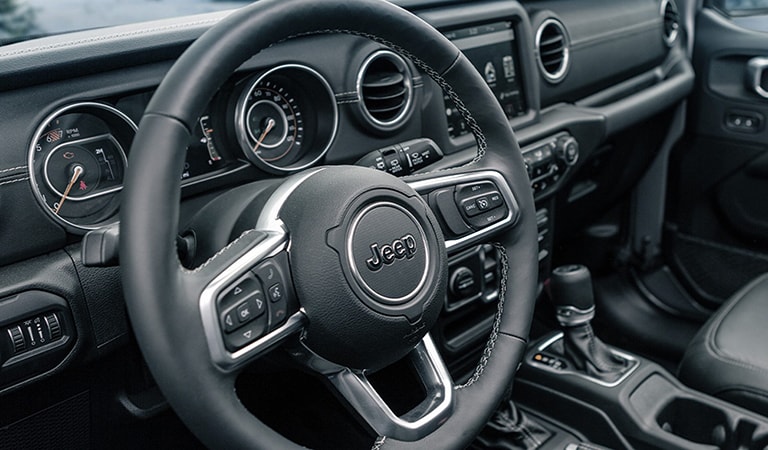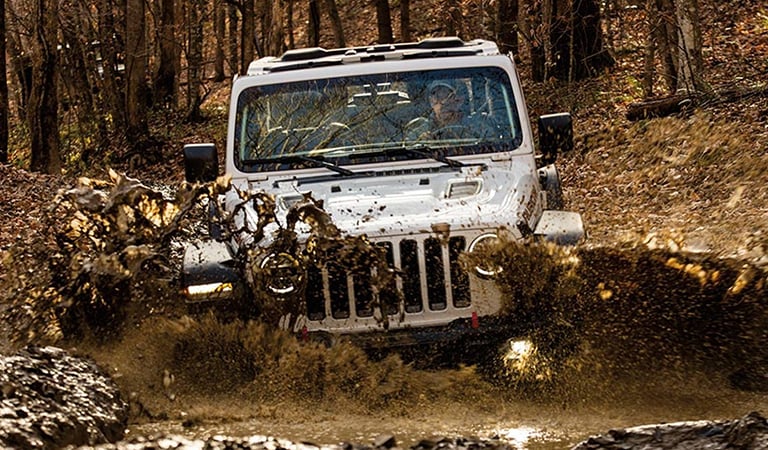 Designed for optimal operation, our most capable Wrangler model ever will help get you to your destination. Available performance features include:
Rock-Trac® 4x4 System
Steel skid plates
2.0L Turbo engine
Selec-Speed® Control
And more



Available Trims
Frequently Asked Questions About 2021 Wrangler
What the the 2021 Jeep Wrangler colors?
The new Wrangler includes two new colors called Hydro Blue and Snazzberry. They'll be joining eight other carryover colors including Sage Green, Hella Yella, Sting Gray, Firecracker Red, and various black, white, silver & gray shades. Driving a new Wrangler will always be a head-turner! The attractive body styles & various color choices will allow you to select the perfect 2021 Wrangler for your budget and lifestyle. Cruise the North Charleston streets in style with a new Wrangler.
Which Wrangler trim is best for off-roading?
Two trims come to mind immediately, especially for the adventure-seeking drivers. The Rubicon and Sahara Wrangler trims are excellent choices. Depending on where you plan on off-roading and how often, the Rubicon or other trim may be more suitable. As you off-road, remember that your Wrangler is designed to handle the job. However, do remember that not every trim is ideal for the rocky or muddy terrain. Let's find out which Wrangler is best for you and your needs!
How much does a 2021 Wrangler tow?
The 2021 Wrangler has a towing capacity of about 2,000 to 3,500 lbs. The 2-door Wrangler models can tow up to 2,000 pounds while the 4-door models are able to handle up to 3,500 pounds. Work with our expert team to determine which model capacity would best suit your lifestyle requirements!
What are some interesting technology features in the Jeep Wrangler?
Connecting to your smartphone was not enough for the new Jeep. Your Jeep Wrangler can now connect with your at-home Alexa device. You're now able to start your Jeep Wrangler from the comfort of your home, check your fuel levels, and much more. Voice command is the next big thing, and your Wrangler is ready to handle it.
What's the main difference between the Jeep Wrangler Rubicon and Sahara?
The new 2021 Wrangler Rubicon and Sahara introduce that iconic Jeep design that you know and love. The price for both trims is very similar, but could differ depending on customizations and add-on packages. The major difference between the Rubicon and Sahara is towing capacity. The Rubicon tows 3,500 pounds as a four-door Jeep and the Sahara tows 2,000 pounds as a two-door. Fuel economy also differs slightly between trims with one being two-door and the other being four-door. The Wrangler Sahara trim has more available styling options with several interior and exterior color options. Check out the Jeep Wrangler Rubicon or Sahara at Rick Hendrick Jeep Chrysler Dodge RAM in North Charleston today. We're happy to help you find the perfect match.
Do Jeep Wrangler's need to run on premium gasoline?
No, Jeep Wrangler models do not need to run only on premium gasoline. As an alternative option for drivers who may be interested, the new 2021 Jeep Wrangler has launched a Hybrid Powertrain, but not fully electric trim. The Jeep Wrangler 4xe can go 25 miles on electric power only. The driver has the choice between electric vehicle mode, hybrid mode, and/or charging mode. Contact our North Charleston dealership near Summerville to learn more about your available 2021 Wrangler options.
Does my Jeep Wrangler have Easter eggs inside?
Yes there is a surprise of symbols or messages hidden in Jeep vehicles that are referred to as "Easter Eggs." Since 1996, when the 1997 Wrangler TJ was introduced with the first hidden symbol, Jeep models have had "Easter Eggs." Many are animal motifs or short messages. Some find their "Easter Eggs" shortly after their purchase and some find them much later on! Go hunting for your unique Jeep symbol when you buy a new Jeep Wrangler with us.